You Love Everything About French Style – And France Itself
It would be fabulous if you could dress with the effortless elegance and nonchalance of a French woman.
But you're not quite sure that you'll ever have that sort of style confidence.
And sometimes you wish you could get just a little more French inspiration and joie de vivre in your life.
Imagine walking out your door every morning with a spring in your step, knowing that the outfit you've chosen would fit right in on any Parisian Boulevard.
I know that every woman can bring French style and inspiration to her life, no matter where she happens to live in the world. She only needs to learn a secret or two to be on her way.
When you join the Distant Francophile community, you'll learn the style and grooming secrets that will help you to dress with the confidence so many French women seem to have. And you'll also receive regular doses of French inspiration.
Meet Janelle Wehsack Gould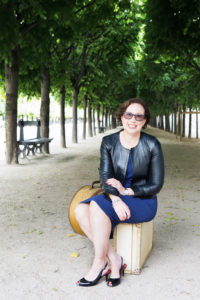 I'd always had a passing interest in France. But this interest grew into a full blown obsession after spending October 2008 in Paris and Provence with my husband and our son. We fell in love with the people, the culture, the architecture, the food, the wine… basically, we fell in love with everything about the place.
From that very first trip, we were confirmed francophiles and have chosen to brave the 24 hour flight from Melbourne, Australia to France many, many times. We try to visit at least annually, if not more regularly.
And over the years, I also became absolutely fascinated with understanding how French women could be so chic.
But in the early days, I realised I was clueless when it came to style, let alone French flair. I had no idea how French women put themselves together so effortlessly. And I was desperate for just a little bit of the inherent style confidence that I saw time and time again on French streets. Somehow I understood that if I could develop confidence in the style space, it would impact my confidence in every area of my life.
I decided to throw myself at the problem and enrolled in styling courses in both Australia and London, qualifying as a certified Style Coach™.  But my biggest learnings came from studying French women and applying what I've I learned in my own life.
One of my favourite things in the world is hearing from the Distant Francophile community. You can email me at janelle@distantfrancophile.com or we can connect on Facebook or Instagram.
And I'd absolutely love for you to join me as I explore French elegance, style, confidence and inspiration – all you need to do is enter your details in the form below.
Until next time – au revoir.
Photographs of Scott Gould and Janelle Wehsack Gould together taken by Carla Coulson, 2015. All other photographs on this website have been taken by Scott Gould or Janelle Wehsack Gould, unless noted otherwise.